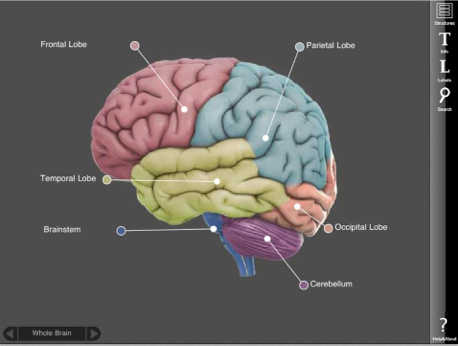 3D Brain
Developer: Cold Spring Harbor Laboratory
Free
Available for iPad and iPhone
3D brain is an interactive 3D model of the human brain that can be rotated in 3D space to view the different areas that make up the structure of the organ. Twenty-nine different areas are color coded for easy viewing and study and internal structures can be viewed from the right side view as the outer structures turn transparent.
Individual areas of the brain can be highlighted for easy identification by tapping on the structure button and selecting an area. For each structure there is a wealth of information including an overview of the areas function, disorders associated with the region, disorders caused by brain damage to the region, associated functions, associated cognitive damage to the area, a list of substructures, research reviews, and links to external web sources.
For psychology, health, or physiology classes, 3D brain offers a unique way of exploring the structure of the brain and the effects it has on the individual. This app is a great reference tool for both students and teachers. 
App-A-Day Site:  http://www.smchigh.org/ipadapps/3d-brain/
iTunes: https://itunes.apple.com/us/app/3d-brain/id331399332?mt=8
Developer: http://www.g2conline.org/

Post Calendar
October 2020
M
T
W
T
F
S
S
« Mar
1
2
3
4
5
6
7
8
9
10
11
12
13
14
15
16
17
18
19
20
21
22
23
24
25
26
27
28
29
30
31