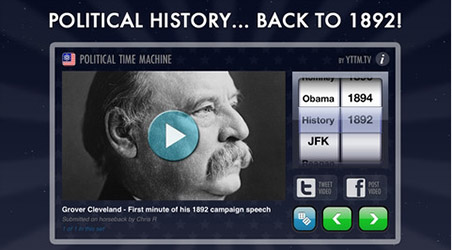 Developer: Original Victories
Free App
Available for iPad & iPhone
Political Time Machine brings you political videos from throughout history. The developer boasts that there are over 2,000 videos to choose from. Videos stream so they need to download before they start playing but there doesn't seem to be a delay over wifi. The quality of the videos are a little on the poor side due to the streaming, but are, none the less, watchable.
There is a selection wheel where you can pick from a number of political figures including Ron Paul, Mitt Romney, President Obama, John F. Kennedy, Ronald Reagan, Richard Nixon, and Bill Clinton. After selecting a figure, you can select a year which ranges their political career and then choose from videos available for that year.
There is also a historical category with dates going back to 1892 that consists of short videos or speeches. For example, selecting 1896 under History, you get William McKinley's 1896 campaign speech in, what I'm guessing, his own words.
Videos range in time based on the content with some being under a minute to others lasting 10 minutes. There is a "Random" button what will select a video randomly to play.
iTunes: https://itunes.apple.com/us/app/political-time-machine/id490643763?mt=8
Developer Website: http://politicaltimemachine.tv
YouTube: http://www.youtube.com/watch?feature=player_embedded&v=JsJiD-5jrH8
YouTube: http://www.youtube.com/watch?v=-nB9qIfGY1k
Post Calendar
October 2020
M
T
W
T
F
S
S
« Mar
1
2
3
4
5
6
7
8
9
10
11
12
13
14
15
16
17
18
19
20
21
22
23
24
25
26
27
28
29
30
31