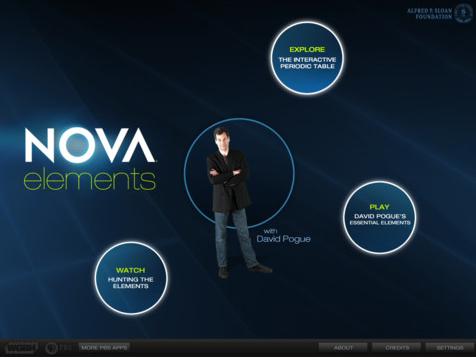 Developers: PBS
Free App
Available for iPad
Created by NOVA in conjunction with the two hour episode "Hunting the Elements" hosted by David Pogue, NOVA Elements explores the periodic table in a fun way. The Interactive periodic table displays a color coded table that includes the elements symbol and its atomic number. Taping on any of the elements brings up a detailed description of the element which tells about its history, including who discovered it and when, what it is used for, and lists its main isotopes. There is even a picture of the element in its natural form and an electron shell configuration chart.
Tapping on the "Build" button from the elements description screen takes you to the "Atomic Sandbox" where you can build the element from scratch by adding protons, neutrons, and electrons to get the most stable isotope of the atom.
The "My Essential Elements" game allows you to assemble common everyday items in a Molecular Sandbox where you can build the molecules that make up the item. In order to build the molecule however, you must first build the individual atoms that make up the molecule and then use them to assemble the different molecules needed. The molecule can be rotating it in three dimensions to get a better view of them while assembling. 
You can even watch the full 2 hour episode of "Hunting the Elements" right from the app.
iTunes: https://itunes.apple.com/us/app/nova-elements/id512772649?mt=8
Developer Website: http://www.pbs.org/wgbh/nova/education/physics/nova-elements.html
YouTube: http://www.youtube.com/watch?v=2m3FXnhW6TE
Post Calendar
October 2020
M
T
W
T
F
S
S
« Mar
1
2
3
4
5
6
7
8
9
10
11
12
13
14
15
16
17
18
19
20
21
22
23
24
25
26
27
28
29
30
31