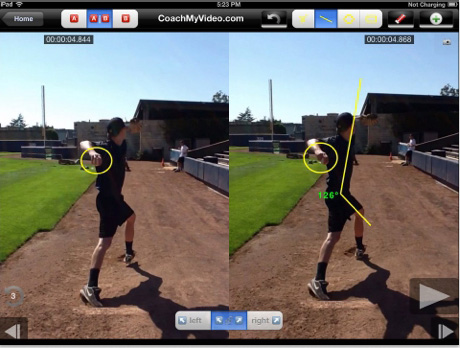 Developer: CoachMyVideo.com, inc
Free App
Available for iPad & iPhone
The CoachMyVideo Mobile is a free app for the iPad or iPhone that allows you to analyze stills or video of an athlete's performance. For video analysis you can record an event directly from the app or import it from your camera roll to analyze it frame-by-frame, in slow motion or at regular speed. You can annotate the screen with lines, circles, squares, or free hand drawing, and whenever you connect two lines at an angle, it will give you the angle in degrees. Keep in mind that the onscreen drawings do not become a part of the video and do not move with the video, but you can take a snapshot of the still frame with the marks on it to review later or to email your player with your analysis and suggestions. 
The best part of this app is that you can load two videos side by side to compare them. You can load the same video twice to compare different parts of the video, say two different plays, or load two different videos to compare the performance of an athlete on different days or to compare two different players. Each of the two videos can be played individually or you can sink them up and play them both at the same time.
There a lot of different ways to play back the videos, you can use the video slider to scrub through the footage, do a 3 second instant replay, advance the video frame-by-frame, and even zoom in on each of the videos independently. Watch the YouTube videos linked below to get a feel for the usefulness of these settings.
There is a store on the Developers site where you can get tripod mounts for the iPad to help with recording events. Click on the link below to access.
App A Day Site: http://www.smchigh.org/ipadapps/coachmyvideo-mobile
iTunes: https://itunes.apple.com/us/app/coachmyvideo-mobile-easy-frame/id499915119?mt=8
Developer Website: http://www.coachmyvideo.mobi
YouTube: http://www.youtube.com/user/coachmyvideo
Post Calendar
May 2020
M
T
W
T
F
S
S
« Mar
1
2
3
4
5
6
7
8
9
10
11
12
13
14
15
16
17
18
19
20
21
22
23
24
25
26
27
28
29
30
31