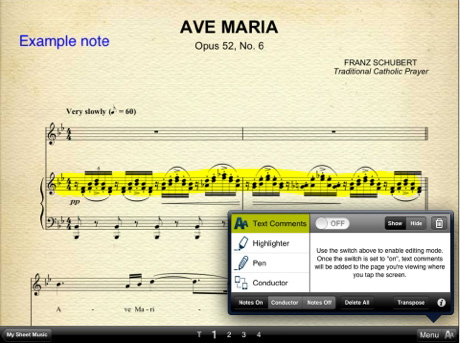 Developer: Musicnotes
Free App
Available for iPad & iPhone

The Musicnotes App is a sheet music library that allows you to gather all your sheet music in one place. The app downloads with a large assortment of music already loaded and when you register for a free account, you get a bunch of free music sheets to download immediately with new free sheets available every month.
The music sheets are displayed in a list format or in an iTunes style cover flow for easy access. In addition, you can create folders to organize your sheet music as well as playlists to group them together. Information on each piece is available right from the "My Sheet Music" screen and includes composer, Number of pages, instrument, scoring, key, tempo, metronome settings and more. 
You can purchase additional sheet music from Musicnotes right from the app and import them into Musicnotes. For $9.99 you can download an add-on that allows you to import PDF music sheets right into the Musicnotes app so you can store your own music as well.
The most interesting use of this app is the "Conductor" mode. Here, you can take control of student's iPads and display sheet music on their screen during practices or performances. You can even turn off page turning for students so their page turns correspond with yours. There is one drawback to this method that I found. While the conductor can control the turning of pages, there is no way to sync the scrolling of pages. If the conductor scrolls down, the new position will not automatically appear on the student's devices, only when the conductor turns the page will it happen also on the student's devices. In portrait mode this is not a problem since the whole sheet can be seen, however, landscape mode offers a larger display of the notes but the whole sheet is not visible.
There are other tools available to mark up your music notes including a highlighter and a pencil mode with several colors available and an eraser to clean up after you are done. Notes and highlights can be hidden from view without being erased for ease of reading during a performance.
App A Day Site: http://www.smchigh.org/ipadapps/musicnotes-sheet-music-viewer
iTunes: https://itunes.apple.com/us/app/musicnotes-sheet-music-viewer/id369741034?mt=8
Developer Website: http://www.musicnotes.com/ipad/
YouTube: http: //www.youtube.com/watch?v=aOtjPb40Swo
YouTube: http://www.youtube.com/watch?v=SXsKOj-wPVk&list=UUQKaBqnumjf3M9LHePRoFHA&index=6
YouTube: http://www.youtube.com/watch?v=vfGrfFVzDSw&list=UUQKaBqnumjf3M9LHePRoFHA
YouTube: http://www.youtube.com/watch?v=nAeBaU_76TA&list=UUQKaBqnumjf3M9LHePRoFHA
Post Calendar
August 2020
M
T
W
T
F
S
S
« Mar
1
2
3
4
5
6
7
8
9
10
11
12
13
14
15
16
17
18
19
20
21
22
23
24
25
26
27
28
29
30
31