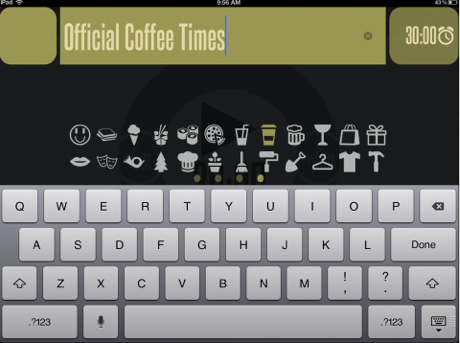 Developer: Binary Hammer
Free App
Available for iPad & iPhone

30/30 is a task manager that keeps you on track when you have to perform multiple tasks in a set period of time. Create multiple tasks, give each a time limit, and let it do its thing. When time is up for one task your iPad (or iPhone) will pop up with an alert and an audible tone of your choosing then automatically move on to timing the next task. 
30/30's interface is minimal consisting of a large donut shaped timer that visually counts down time remaining on your current task. Bellow the timer is a list of tasks you have set up listed in the order you want them to run. Setting up new tasks takes seconds and they can be edited, rearranges, color coded, and deleted. While the timer is running you can add or subtract time to it without missing a beat.
I can see using 30/30 in my class to give a visual reference to the students on the overhead of the time remaining on a quiz, test or in-class project. Personally, I can see using this multiple task timer a lot.
The YouTube video below was the only one I could find on the 30/30 app and it's a little silly and out of date. Some of the wish list updates he recommends have already been incorporated into the current version of the program.
App A Day Site: http://www.smchigh.org/ipadapps/3030
iTunes: https://itunes.apple.com/us/app/30-30/id505863977?mt=8
Developer Website: http://3030.binaryhammer.com/
YouTube: http://www.youtube.com/watch?v=KykiV4fGLKk
Post Calendar
May 2020
M
T
W
T
F
S
S
« Mar
1
2
3
4
5
6
7
8
9
10
11
12
13
14
15
16
17
18
19
20
21
22
23
24
25
26
27
28
29
30
31