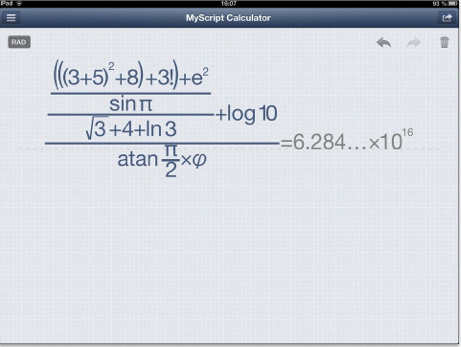 Developer: Vision Objects
Free App
Available for iPad & iPhone

This is truly an amazing app that does more than just hint at what the future of handheld computing has in store. With your finger or a stylus, write any equation on MyScript Calculator's large canvas and it will convert your handwriting to numbers and symbols and solve the problem for you. How does it work? I don't know, but it sure is fun to use. 
And, it's incredibly accurate in interpreting your handwriting. It supports basic mathematical operations, percentages, square roots, absolute values, powers and exponents, cos, sin, tan, and their inverses, logarithms, pi, e, phi, and nested parentheses. As you start writing an equation, the app will start to convert your text and do the calculations. If your equation requires more, simply add it where it needs to be and the equation is reinterpreted and recalculated. I found that it was best to go in sections for larger equations to give the app a chance to do its thing. 
Add a question mark into your equation to represent a variable and you'll get the value of that variable. Draw a line under a number and you'll get a fraction. Omit a number and you'll get a ? where it should go. Drawing a line through a number will erase it. In the settings menu you can set the number of decimal places you prefer as well as switch it to left-handed mode for all you southpaws out there.
Vision Objects is in the process of developing an equation version of MyScript which supports equations with multiple variables as well as calculations with chemical formulas. You can catch a demonstration of this, as well as other apps they have under development, by going to their web demo page here:http://webdemo.visionobjects.com/
App A Day Site: http://www.smchigh.org/ipadapps/myscript-calculator/ 
iTunes: https://itunes.apple.com/us/app/myscript-calculator/id578979413?mt=8
Developer Website: http://www.visionobjects.com/ 
YouTube: http://www.youtube.com/watch?v=w-KdyFWbw5c 
YouTube: http://www.youtube.com/watch?v=fMj84sAWEQ8
Post Calendar
March 2021
M
T
W
T
F
S
S
« Mar
1
2
3
4
5
6
7
8
9
10
11
12
13
14
15
16
17
18
19
20
21
22
23
24
25
26
27
28
29
30
31