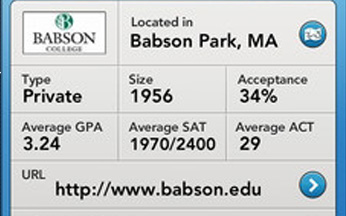 Company: Hobsons, Inc.
Free App
Designed for iPhone but works on iPad
Naviance Student is a free app designed for the iPhone but will also work on the iPad. I was not able to explore the app directly because I did not have a student account, but there was a lot of information online to come to a favorable conclusion about this app. I think it is a must have for all our college bound students. I've copied the Description from the App Store below:
Naviance Student is an easy-to-use, free app that helps you organize school work and the college planning process. To access the app, your school must use Naviance. Naviance Student gives you instant access to college research tools as well as upcoming and overdue tasks within Family Connection. Update the status of tasks, communicate with counselors, and manage the entire process on the go with Naviance Student!
If you do not have a mobile passcode, log in to Family Connection, click "about me", then "Naviance Student mobile app". Click "Download App" and enter your email address to have a passcode emailed you to you.
Features:
•Manage tasks and assignments
•Search and view information about colleges
•Receive notifications and communications from your counselor
•Sync activity with your Naviance Family Connection account
There is a great video on the Naviance Student Support site, listed below.
iTunes: https://itunes.apple.com/us/app/naviance-student/id516404583?mt=8
Developer Website: http://www.naviance.com/articles/naviance-student-app
YouTube: Could not find YouTube video for Naviance Student iPhone App
Post Calendar
May 2020
M
T
W
T
F
S
S
« Mar
1
2
3
4
5
6
7
8
9
10
11
12
13
14
15
16
17
18
19
20
21
22
23
24
25
26
27
28
29
30
31