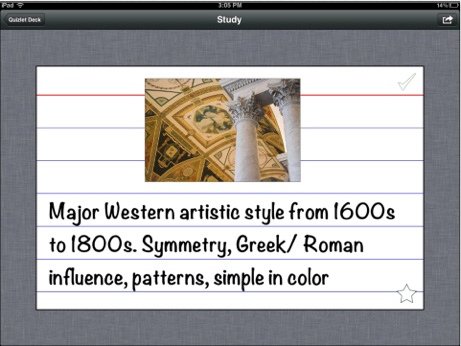 Company: Jeff Holliday Software
Free App – $2.99 to remove ads
Available for iPad & iPhone

I believe this app is a must have. Students can create their own flashcards to drill themselves on key terms and concepts but the app also interacts with quizlet.com allowing students to download flashcard sets from thousands of sets created by others. I did a quick search on Quizlet for the book Biology by Miller/Levine used in our biology classes and I found flashcard sets for every chapter in the book. In addition, teachers can go to quizlet.com and create their own sets of flashcards for students to download, even cards with images in them.
The app itself is simple to use and pretty intuitive. As the student goes through the flashcards, they can "star" a card by pressing on the star in the lower right hand corner to favor it and can later select to study just the starred cards or just the non-starred ones. Students can also select to go through the cards in the original order, randomly, or alphabetically. They can also choose to show the back of the card first or the front of the card first.
The YouTube video below is for a previous version of Flashcardlet but the details of how the app works is accurate.
iTunes: https://itunes.apple.com/us/app/flashcards*/id403199818?mt=8
Developer Website: http://www.facebook.com/pages/Flashcardlet/168170483206538
YouTube: http://www.youtube.com/watch?v=WrS7t85O2DA
Post Calendar
May 2020
M
T
W
T
F
S
S
« Mar
1
2
3
4
5
6
7
8
9
10
11
12
13
14
15
16
17
18
19
20
21
22
23
24
25
26
27
28
29
30
31