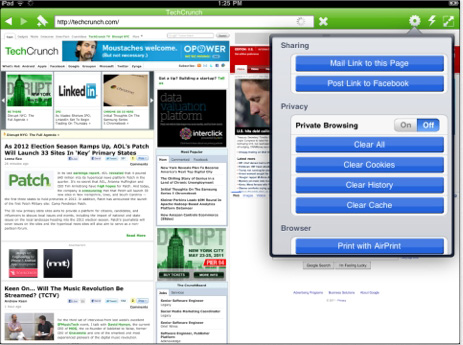 Company: Appsverse Inc.
iPad $4.99  iPhone $3.99
Available for iPad & iPhone
This is a must have app! Photon allows you to view webpages that contain Flash content on your iPad or iPhone which are not supported by Apple. Use it as an alternative to the Safari web browser when you want to view pages online that contain Flash. As a browser, you get all the common browser elements like tabs and bookmarks and you can perform a Google search right from the address bar. 
It supports full screen mode and, one of my favorite features, split and trio screen modes where you can view two or three webpages on the screen at once, side by side. Photon works as a normal web browser but when it detects Flash content is renders it at the server before delivering it to you iDevice. It does a pretty good job at detecting Flash and figuring out the best way to deliver it, but it also has manual control settings where you can set bandwidth and port settings, as well as choose whether you are viewing a Flash video, playing a Flash game, or just viewing a Flash website.
This is a good utility app to have for those "just in case" moments and you might find yourself using it more than you think. On the online iTunes review site for the app, the developer lists it as a "Limited Time Sale" price of $4.99, hinting that the price will soon increase to $9.99. If you think you will need an this app, now is a good time to purchase it.

iTunes: https://itunes.apple.com/us/app/photon-flash-video-player/id430200224?mt=8
Developer Website: http://www.appsverse.com/Browser#ipad
Post Calendar
May 2020
M
T
W
T
F
S
S
« Mar
1
2
3
4
5
6
7
8
9
10
11
12
13
14
15
16
17
18
19
20
21
22
23
24
25
26
27
28
29
30
31