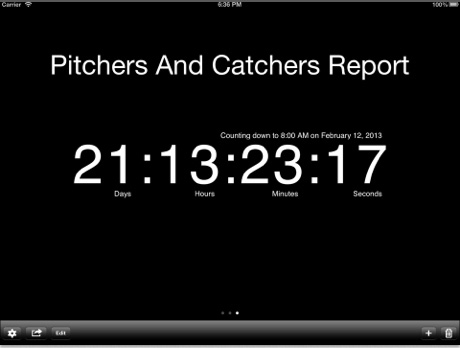 Creator: Dan Wesnor
Free App
Available for iPad and iPhone
T-Zero Countdown Timer is an easy to use app that allows you to count down to a specific date and time as well as monitor the elapse time since the start of an event. The interface is minimal, consisting of the title of the event that you are counting down or counting up to on a full black background with large white numbers. The display will self-adjust based on the amount of time you want to monitor and includes units of years, months, days, hours, minutes, and seconds.
T-Zero supports multiple timers which can be accessed by swiping your finger across the screen. Creating a new timer is easily done by pressing the '+' button on the toolbar and selecting a future end date and time to start a countdown. To create a count up counter, accept the current date and time, give it a title and you are done.  You can even set a count up timer that started in the past by selecting a point in the past for your start date.
To share a moment from your timer, like to let your students know how much time is remaining till their project is due, display the timer on the overhead, email a screenshot to your students, share it on Facebook or other social media sites, or take a picture of the screen and post it on your website.
iTunes: https://itunes.apple.com/us/app/t-zero-countdown-timer/id480487790?mt=8
Developer Website: http://www.danwesnor.com/tzero.html

Post Calendar
February 2020
M
T
W
T
F
S
S
« Oct
1
2
3
4
5
6
7
8
9
10
11
12
13
14
15
16
17
18
19
20
21
22
23
24
25
26
27
28
29