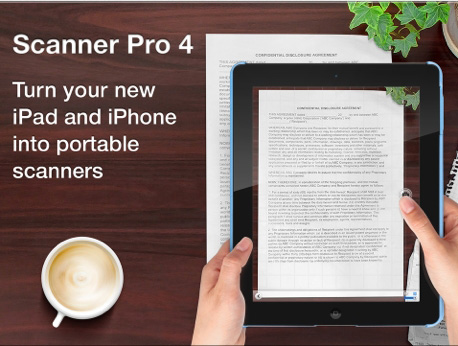 Note: Since this post was first published, Scanner Pro has changes the price for this app to $0.99.
Company: Readdle
$6.99
Available for iPad and iPhone
Scanner Pro turns the camera on our iPad or iPhone into a PDF document scanner. Take a picture of a paper document, crop it, and save it in color, grayscale or as a black and white document. Once scanned, you can export your PDF document into PDF Expert for markup (see yesterday's review for a description of PDF Expert).
Use Scanner Pro to scan in student papers, receipts, or any other document you need a digital copy of. You can organize your scanned documents into folders and sort them by date or name. If you have a lot of scanned documents, you can even search for them by name.
The limitations of Scanner Pro are that it does not perform OCR (optical Character Recognition) on the documents you scan in, so they are, in essence, photos of the paper document. You can always copy the document to your computer and use the professional version of Acrobat to perform the OCR function.
In a pinch though, to import student work for correcting in PDF Expert, or to scan documents when away from a scanner, Scanner Pro is a great alternative. Scanner pro digitized documents better on the iPad 3 or the iPad mini than it does on the iPad 2. The cameras on the newer iPads have a higher resolution and can create better images of a document. 

iTunes: https://itunes.apple.com/us/app/scanner-pro-by-readdle/id333710667?mt=8
Developer Website: http://readdle.com/products/scannerpro/
YouTube: http://www.youtube.com/watch?v=ltQwenXxQVc

Post Calendar
July 2020
M
T
W
T
F
S
S
« Mar
1
2
3
4
5
6
7
8
9
10
11
12
13
14
15
16
17
18
19
20
21
22
23
24
25
26
27
28
29
30
31