Posted by
Erick Molnar
in
Asian History
,
Biology
,
Chemistry
,
Economics
,
English
,
English Studies
,
Environmental Science
,
Ethics & Values
,
Faith & Religion
,
French
,
Geography/Epistemology
,
Health
,
International Languages
,
Islamic History
,
Learning Management
,
Literature
,
Marine Biology
,
Physical Education & Health
,
Physics
,
Physiology
,
Poetry
,
Psychology
,
Public Policy
,
Religious Studies
,
Science
,
Scripture
,
Social Justice
,
Social Studies
,
Spanish
,
Sports Medicine
,
US Government
,
US History
,
World History
,
World Religions
.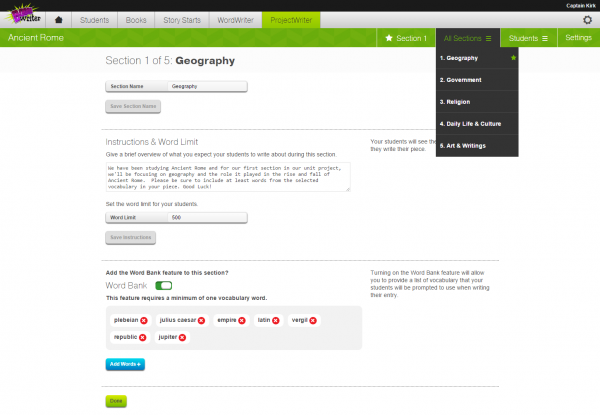 This is not just limited to English teachers but any subject where you want your students to write collaboratively can benefit from this free resource.
"Be it History/Social Studies, Science & Technical Subjects, or ELA, ProjectWriter lets students synthesize and demonstrate their knowledge of key unit concepts and terms through nonfiction writing. Students review and assess the anonymous work of their classmates, and vote for the piece that conveys that subject's concept section the best."
"A ProjectWriter project is broken up into various sections for a particular subject unit. For example, if you're teaching a unit on Ancient Rome, you could create "Project: Ancient Rome Unit" and then break the project unit sections into: Geography, Government, Religion, Daily Life & Culture, Art & Writings."
ProjectWriter is a new offering from the folks at BoomWriter. The purpose of ProjectWriter is to provide you with a platform through which you can develop and manage group writing projects for your students.Through Project Writer you can create writing assignments for students to complete in groups that you organize. Students log into their BoomWriter accounts (you can manage those accounts) and select the ProjectWriter tab to see their group and the assignment.
ProjectWriter
allows all of the students in a group to write their own essays then vote on the best one to submit as the final work. If the project that you assign has multiple parts, each student will write a submission for each part then the group will select the best submission for each part of the overall project. As the teacher you can view all of your students' writing and give them feedback regardless of the group's decision.
"You could choose to include vocabulary for your students to utilize in their writing, such as important terms and figures like

 

plebeian, Julius Caesar, empire, Latin, Vergil, Republic,

 

and

Jupiter

, through our Word Bank add-on feature. For each section, you can incorporate a new set of vocabulary words, as well as new guidance notes."
"Teachers can use their students' submissions to assess the levels of understanding taking place on both an individual and/or whole class basis. When finished, students will have a deeper understanding of the subject unit as a whole!"
Post Calendar
October 2020
M
T
W
T
F
S
S
« Mar
1
2
3
4
5
6
7
8
9
10
11
12
13
14
15
16
17
18
19
20
21
22
23
24
25
26
27
28
29
30
31