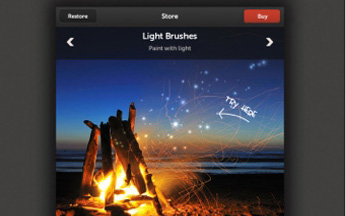 Developer: Sumoing Ltd.
Free – with max in-app purchases of $4.99
Available for iPad and iPhone

Repix is a fun to use art app with a lot of creative potential. Open an image from your Camera Roll or take a picture with the iPad's camera and enhance it by using one, two, or all of the nine built-in brushes. The app comes with a Cartoonize brush, a Charcoal, brush, an Edger brush, a Dotter brush, a Flares brush, a Drips brush, a Posterize brush, a Silk brush, and a Bleach brush. There is also an Undoer brush and an eraser brush. 
In addition to using the brushes, there are a set of tools that can be accessed to enhance your image as a whole. The image can be cropped, a vignette can be applied, and adjustments can be made to the brightness, contrast, saturation, vibrancy, and temperature of the image. When the image is complete, save it to your camera roll, send it via email, or share it on Twitter, Facebook, or Tumblr right from the app.
Twelve additional brushes are available for purchase, four Color Brushes which include Sepia, Hollywood, Vintage, and Freshen, four Artistic Brushes, that include Hatching, Daubs, Van Gogh, and Spray, and four Light Brushes that include Glow Smoke, Stars, Sparkler, and Glow Line. Each set will set you back $1.99 or you can save a buck by purchasing the Master Collection for $4.99, which includes all twelve add-on brushes.
iTunes: https://itunes.apple.com/us/app/id597830453
Developer Website: http://www.repix.it/
Video: http://vimeo.com/60755277#
Video: http://vimeo.com/repix/videos
Post Calendar
August 2020
M
T
W
T
F
S
S
« Mar
1
2
3
4
5
6
7
8
9
10
11
12
13
14
15
16
17
18
19
20
21
22
23
24
25
26
27
28
29
30
31