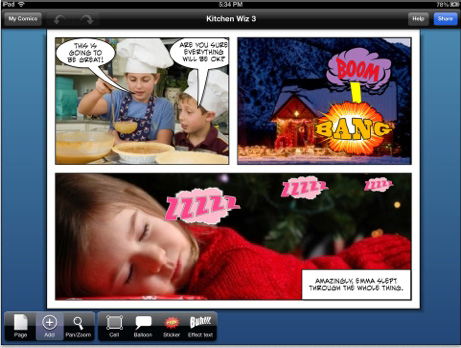 Developer: Vivid Apps
$2.99 
Available for iPad and iPhone

Do your students have a paper due? A science experiment write-up? How about a "What I Did This Summer" report? Have them go all comic strip on it and express themselves in a non-traditional manner with this app. 
Strip Designer allows students to create photo comic strips by taking photos with their iPad or using their camera roll. Choose from dozens of page layouts or make your own, add your favorite photos, text balloons, stickers, and word effects to create a comic strip sequence that tells a story. Apply one or more of dozens of filter effects to images to make them monotone, black and white, halftone, or comic like.
There are dozens and dozens of stickers to choose from with everything from "Splash", "Boing", and "Boom", Exclamations like "WOW", "What!?", and "?",  and even cartoon rainy clouds, bombs, and stars. You can even create your own custom sticker right from the app. The app comes with a large number of fonts that are included but more can be downloaded from the internet. 
There is a lot of control over the different elements used to create your comic strip. Balloons and stickers can be resized, rotated and adjusted to fit your layout. Text effects can be warped into any shape, have a background image attached to it and given a texture.  The color of Word Balloons can be changed to fit the story. All in all, this is a very well designed app that does a lot for the price.
iTunes: https://itunes.apple.com/au/app/strip-designer/id314780738?mt=8
Developer Website: http://www.vividapps.com/Strip_Designer/index.html
Video: http://www.youtube.com/watch?v=6mi9Jx-T_gk

Post Calendar
October 2020
M
T
W
T
F
S
S
« Mar
1
2
3
4
5
6
7
8
9
10
11
12
13
14
15
16
17
18
19
20
21
22
23
24
25
26
27
28
29
30
31