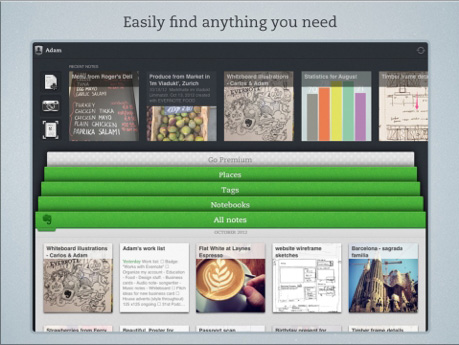 Developer: Evernote
Free +Premium features $4.99/month or $44.99/year 
Available for iPad and iPhone

Evernote is a full featured note taking app that allows users to create and organize notes and sync them across multiple devices. It is available for free on you iPad, iPhone, PC or MAC, or on the free web based portal athttp://evernote.com. When you first open Evernote you are prompted to set up an account. Use this same account on all your devices to automatically sync all your Evernote content. 
From the iPad or the iPhone, create notes that contain text, images from your camera roll or directly from your camera, and/or audio. Add a to-do check list, links, bulleted and multiple level numbered lists, mark items as important, and use a host of text editing features like bold, italic, underline, and strikethrough.
Notes can be organized into notebooks to group similar content together and tags can be added to individual notes to quickly find related topics across all notebooks. Use the camera tool to create a new note from any visual content. There is a built in document scanner which allows you to add documents to your notes.
You can create a premium account on Evernote which runs $4.99 a month or $44.99 for a year that allows larger uploads of up to 1GB per month, PDF searching, note history, and notebook sharing, but for general use, the free version seems to be more them adequate. 
All notes are geotaged for reference and displayed on a map. Use Evernote in your classroom to have students take notes on lectures or to organize projects. 
iTunes: https://itunes.apple.com/us/app/evernote/id281796108?mt=8
Developer Website: https://evernote.com/evernote/
Video: https://www.youtube.com/watch?feature=player_embedded&v=Pjn6YkCY2yA
Post Calendar
October 2020
M
T
W
T
F
S
S
« Mar
1
2
3
4
5
6
7
8
9
10
11
12
13
14
15
16
17
18
19
20
21
22
23
24
25
26
27
28
29
30
31