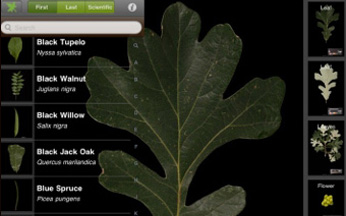 Developer: Columbia University, University of Maryland, and Smithsonian Institution
Free
Available for iPad and iPhone

Leafsnap is an exciting new type of educational app which has the dual purpose of acting as a field guide for users, and a data collector for scientific research. A collaboration between Columbia University, University of Maryland, and the Smithsonian Institution, leafsnap helps users identify trees by analyzing a picture of its leaf. The identification process runs through an online database and returns the results to the user for verification. Once verified by the user, the type and location of the tree is stored in the online database for scientific use.
Browse the leaf database by the trees common or scientific name. Images for each tree include the front and back of the leaf, leaf clusters, flower, flower clusters, fruit, seed, petiole where it attaches to the branch, and the bark of the tree.
Click on "Nearby Species" for a map view of nearby trees identified by other Leafsnap users. Once you identify a species, your sighting is added to the database and included on the map. There is also a "Collections" area which stores all the leafs you've taken pictures of and whether they have been identified or not.
Click on the book icon in the upper right hand corner of the screen to get a detailed description of the species along with a map of where the tree is present. There is a link on the page to the in-app online EOL (Encyclopedia of Life) database where in-depth information can be found.
Currently, the Leafsnap database contains species found predominantly in the Northeastern United States but will grow to include trees from all over the U.S. There are many local trees that have been identified, though, including a Ginkgo Biloba tree identified on the Saint Mary's College High School campus.
iTunes: https://itunes.apple.com/us/app/leafsnap/id430649829?mt=8
Developer Website: http://leafsnap.com/
Video: http://www.youtube.com/watch?v=KCpR4JTEy4c&hd=1
Post Calendar
May 2020
M
T
W
T
F
S
S
« Mar
1
2
3
4
5
6
7
8
9
10
11
12
13
14
15
16
17
18
19
20
21
22
23
24
25
26
27
28
29
30
31