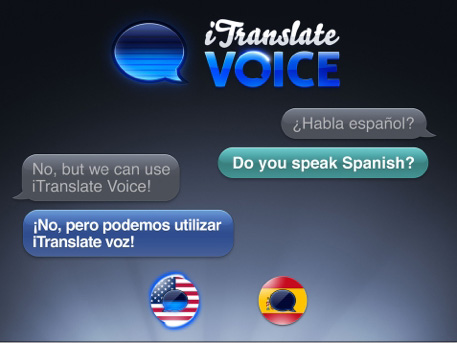 Note: Since this post was first published, iTranslate has changed its price for the app to $0.00.
Developer: Sonico GmbH
$1.99
Available for iPad and iPhone


iTranslate Voice is a voice recognition app that allows you to translate words, phrases and whole sentences from one language to another. Speak into the iPads microphone in one language and see and hear the translation in another. There are over 36 common languages and dialects to choose from and more to come.
The app is easy to use with minimal settings and an intuitive interface. After selecting your 'from' and 'to' languages, simply tap on the appropriate flag button and speak into the microphone. The screen will display what you said, the written translation, and then will speak the translation. In most languages you can select a male or female voice and in all you can adjust the speed of the spoken translation. If you hold down on the flag button you'll get the keyboard which allows you to type your word or phrase to translate.
iTranslate Voice seems like it would be a great tool for use in the foreign language classroom to aid students in pronouncing words in another language. I experimented by selected Hungarian for both my 'from' and 'to' languages and spoke "jo reggelt" (Good morning) into the microphone. My pronunciation was off and I kept getting "Uj reggel" (New morning), but after a bit of practice I started pronouncing well enough for the translator to understand me and translate correctly. The spoken translation is what seemed to have helped the most since I could hear where my pronunciation was off and correct it.
The only limitation I could find with iTanslate Voice is that it requires an internet connection to access the translation database so you must be connected to an active Wifi or cellular network.
iTunes: https://itunes.apple.com/us/app/itranslate-voice-hd/id538746882?mt=8
Developer Website: http://www.itranslatevoice.com/
Post Calendar
December 2020
M
T
W
T
F
S
S
« Mar
1
2
3
4
5
6
7
8
9
10
11
12
13
14
15
16
17
18
19
20
21
22
23
24
25
26
27
28
29
30
31