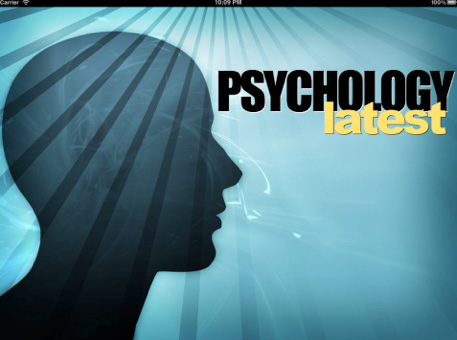 Developer: Decar Studios
Free
Available for iPad and iPhone
Keep up to date with all the current psychology news with this app. With multiple listings in seven different categories, this app places at your fingertips research and studies available online through the in-app browser. The categories that are offered in this app include: 
General psychology and neuroscience

Politics and public policy

Judgment and decision making

Happiness, fulfillment and life meaning

Interpersonal relationships

Teaching and education

and other topics
Content comes from a variety of websites and blogs focusing on psychology including Psychology Today, BrainBlogger, Mind Hacks, PSYBLOG, Frontal Cortex, and APA PsycNET, and from non-psychology based sites like The American Prospect, Annual Review, and Decision Science News.
Besides the listed articles, you can search the database for key terms from articles no longer listed. A quick search of the term "High School" returned 9 articles related to high school and psychology. Articles can be added to a favorites listing for easy access and the app even has a Radio area where you can choose from various easy listening web based radio stations to relax you while you read all about psychology. 
Some of the Extra features include online psychology books, including Outlines of Psychology, The Analysis of Mind, and The I, among others. The Sources section gives you a list to all the different web sources that articles come from. Clicking on the links opens up the webpage in the in-app browser.
The developers website says that articles are updated daily, however, I found the most recent articles dateing from January 2013 and the majority dating from last year. The content still appeared to be relevant and useful. 
iTunes: https://itunes.apple.com/ie/app/psychology-latest/id492500161?mt=8
Developer Website: http://psychology-latest.blogspot.com
Post Calendar
May 2020
M
T
W
T
F
S
S
« Mar
1
2
3
4
5
6
7
8
9
10
11
12
13
14
15
16
17
18
19
20
21
22
23
24
25
26
27
28
29
30
31