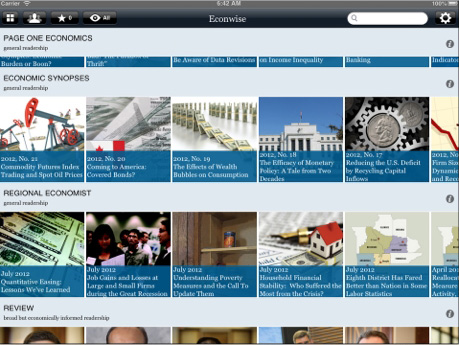 Developer: Federal Reserve Bank of St. Louis
Free
Available for iPad & iPhone

EconWise and FRED Economic Data are two apps in the economics category that deliver micro and macroeconomic analysis in the form of news, articles and interactive data right to your iPad. Use EconWise to get the information you need to be informed on economic issues then switch over to FRED to analyze the economic data.
EconWise offers economic research and commentary in the fields of microeconomic, macroeconomics, monetary policy, banking, education, and personal finance. Content includes Featured Media which contains videos that put in laymen's term economic issues like Sovereign Debt and compound interest, and articles from various publications like Page One Economics, Economic Synopses, Regional Economist, Review, and Inside the Vault.

Articles can be filtered by publisher, author, or even level of expertise. Expertise levels range from Most Accessible, for beginners and students, through Entry, Mid, High, and Technical Levels of expertise. Selecting an article to read downloads it to your iPad where it can be read immediately or saved for later.
iTunes EconWise: https://itunes.apple.com/tw/app/econwise/id557155465?mt=8
Developer Website for EconWise: http://research.stlouisfed.org/apps/econwise/ 


Post Calendar
August 2020
M
T
W
T
F
S
S
« Mar
1
2
3
4
5
6
7
8
9
10
11
12
13
14
15
16
17
18
19
20
21
22
23
24
25
26
27
28
29
30
31