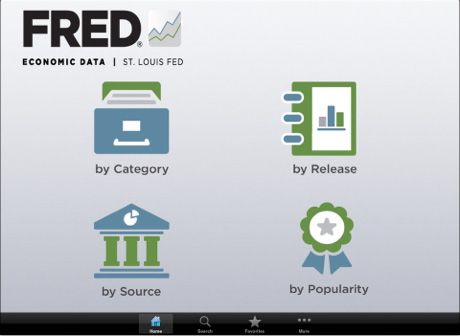 FRED gives you full access to the Federal Reserve Economic Database's vast storehouse of economic data, some 34,000 economic data series from 37 regional, national and international sources, according the publisher's description. Select data by category, release date, source or popularity.
You can choose data from various categories with include academic data, Money, Banking, & Finance, National Accounts, Population, Employment & Labor Markets, Production & Business Activities, Prices, International Data, and U.S. Regional Data.
Data is displayed in a graph format that is customizable, allowing you to select the data range and units. Information on the data series and the data itself can also be accessed from the graph view screen. FRED is also available online at http://research.stlouisfed.org/fred2 where more elaborate graphs can be created using the same FRED database the app uses.
iTunes FRED: https://itunes.apple.com/tw/app/fred-economic-data/id451715489?mt=8
Developer Website for FRED: http://research.stlouisfed.org/fred-mobile/?utm_source=research&utm_medium=website&utm_campaign=data-tools <http://research.stlouisfed.org/fred-mobile/?utm_source=research&utm_medium=website&utm_campaign=data-tools>

Post Calendar
August 2020
M
T
W
T
F
S
S
« Mar
1
2
3
4
5
6
7
8
9
10
11
12
13
14
15
16
17
18
19
20
21
22
23
24
25
26
27
28
29
30
31