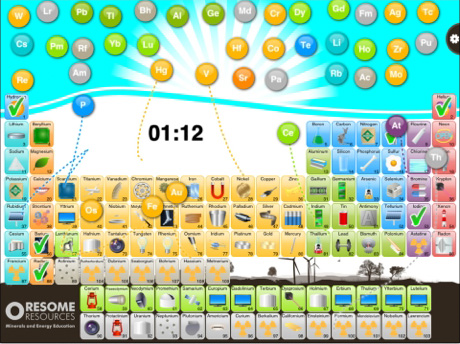 Developer: Intunity Pty Ltd
Free
Available for iPad Only
Today we turn our attention to games that help in the learning process. Oresome Elements is a single player element identification and matching game intended to familiarize players with the various element symbols as they match symbol to element name and position on the periodic table.
Periodic table groups are color coded and match the element that floats above. Players must match the floating elements with its correct position on the table by dragging it. If stuck, students have the option of tapping once of the element in the table to see its symbol or double taping it to get more detailed information about the element. 
There are three levels of play, Level 1, which displays the first 20 element in the table, Level 2, which displays the first 30 elements, and Level 3, which displays all the elements. In "testing" out this app, I completed Level 1 with a time of 2:32, Level 2 with 3:08, and Level 3 with 19:25.
Playing the game does help in learning element symbols and their placement on the periodic table as well as elemental groupings. Teachers can let their students play the game at the beginning of class while setting up or as a warm-up exercise for the days lesson.
iTunes: https://itunes.apple.com/in/app/oresome-elements/id440461810?mt=8
Post Calendar
October 2020
M
T
W
T
F
S
S
« Mar
1
2
3
4
5
6
7
8
9
10
11
12
13
14
15
16
17
18
19
20
21
22
23
24
25
26
27
28
29
30
31