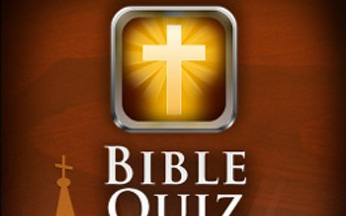 Developer: Webelinx DOO
Free/$0.99 to remove ads
Available for iPhone only but works on iPad

Bible Quiz is a game app that quizzes players on their knowledge of the Old and New Testaments. There are four different game modes which give you the option of answering 10, 25, or 50 questions, or the 5 Errors Endless mode which allows play until the fifth wrong answer.
Though a game, this app is well designed and the questions well thought out. Answers are multiple choice and there is a time limit of 20 seconds for answering each question. The game keeps track of player statistics including total points, average answer time, longest streak, and total correct and incorrect answers. 
The app is multilingual so it can be played in one of eight languages including English, French, and Spanish. Use it as a warm-up exercise before class starts or to see who can get the farthest in 5 Error Endless Mode. Ads are unobtrusive only appearing at the end of some games and easily dismissed. Though designed for the iPhone, it displays well on the iPad in 2x mode.
iTunes: https://itunes.apple.com/us/app/bible-quiz-game-b/id551349504?ls=1&mt=8
Post Calendar
August 2020
M
T
W
T
F
S
S
« Mar
1
2
3
4
5
6
7
8
9
10
11
12
13
14
15
16
17
18
19
20
21
22
23
24
25
26
27
28
29
30
31