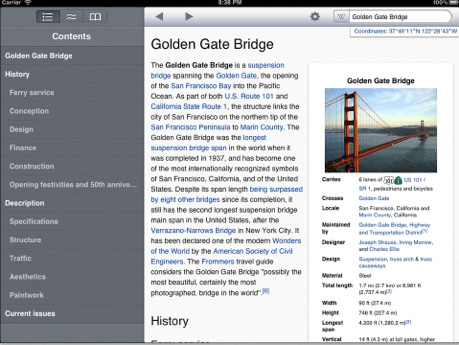 Developer: Robert Chin
Free
Available for iPad only

Get access to the vast number of Wikipedia articles with the Wikipanion app. Though Wikipedia is available through the iPad's Safari Browser, this app adds some extra features that make it a worthwhile download as a standalone browser for Wiki articles. 
For starters, the app features a Wiki Manager which allows searches for articles which not only include content from Wikipedia but also from a vast number of other wikis on the web with topics ranging from books and comics to computers and technology. You can recommend wikis to be added to the list and, with the paid version of the app ($4.99), you can add new ones manually.
There is a 'Content' menu, which lists the outline sections of the article for quick reference and access, a 'Related' menu, offering related articles to jump to, and a 'Bookmarks' menu to save links for your favorite articles. In portrait mode the menus are icons located on the top information bar, very unobtrusive, leaving the content to fill the page. However, in Landscape mode, the menus fill up 1/3 of the left side of the screen and the content resides on the right 2/3 of the screen. There seems to be no way to close the menu pane to allow full screen viewing of articles in landscape mode.
The setting menu allows you to change the font size to make reading easier. The default setting for the font is a sans-serif font but it can be turned off for those who prefer reading in a serif font. From the settings you can also search within the page, search Wikiditionary, email a link to the article, open the article in Safari, or print it, if you have access to a printer from your iPad.
The paid version of the app offers a few more bells and whistles but nothing I can see to justifies the $4.99 price tag. In addition to the above mentioned manual entry of web based wikis, articles can be downloaded and saved for later, say when you're away from internet access.
iTunes: https://itunes.apple.com/gb/app/wikipanion-for-ipad/id364195592?mt=8 
Developer: http://www.wikipanion.net/support.html

Post Calendar
October 2020
M
T
W
T
F
S
S
« Mar
1
2
3
4
5
6
7
8
9
10
11
12
13
14
15
16
17
18
19
20
21
22
23
24
25
26
27
28
29
30
31