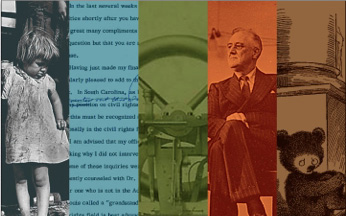 Developer: National Archives and Records Administration
Free
Available for iPad and iPhone

Today's Document comes to us from the National Archives and Records Administration bringing to your iPad or iPhone one historical document, relevant to American History and Culture, each and every day. Historical photographs, national documents, and letters from political and popular cultural figures, are just some of the content you can expect.
The interface for this app is very simple, consisting of a brief description of the item and an image. The image is high resolution and can be zoomed in and out by pinching it. There is an information button which gives greater detail related to the document as well as a translation if the document is in a foreign language. From the information screen you can access more information about the document by following the link to the National Archives web site.
Documents can be added to a favorites list for quick access or you can send it by email to friends. Documents can also be shared on Facebook and Twitter right from the app. You can search for a document by typing in a search string at the boom of the screen or access the browse feature to select a specific date or a random one. Swiping left or right will allow you to browse day by day.
iTunes: https://itunes.apple.com/us/app/todays-document/id412969819?mt=8
Developer: www.archives.gov/historical-docs/
Post Calendar
January 2021
M
T
W
T
F
S
S
« Mar
1
2
3
4
5
6
7
8
9
10
11
12
13
14
15
16
17
18
19
20
21
22
23
24
25
26
27
28
29
30
31