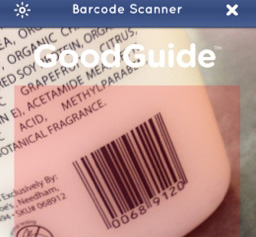 Developer: GoodGuide, Inc.
Free
Available for iPhone only but works on iPad

Do you want to make sure the products you buy are healthy to the environment and produced in a socially conscious way? Well, there's an app for that…
The GoodGuide is a great tool that makes it fast and easy to find safe, healthy, green, and ethically produced products. At the heart of this app is a barcode scanner that allows you to scan items right on the shelf. Scanned items are given a rating for Health, Environment, and Society, along with an overall score (scores seem to be based on a ten point scale).
But it doesn't stop there. After scanning an item and getting its rating, scroll down to get information about the rating, see what certifications the product has, find top rated alternative products, see other products from the same brand with their rating, and for food items, check out the ingredients, and see a nutritional label.
Don't have a barcode? You can look for products by categories like personal care, household cleaners, paper products, cars, cell phones, dog food, apparel, and appliances. Read the GoodGuide blog right in the app. Go online to the GoodGuide website to set up an account and keep track of your purchases and the app will help you determine if your purchases meet your personal standards. Visit the GoodGuide channel on YouTube.
The GoodGuide app is available for the iPhone only but it will work well on the iPad. After loading it, tap the "2x" button in the lower right hand corner of the screen to view app full screen.  
iTunes: https://itunes.apple.com/app/goodguide/id294447660?ign-mpt=uo%3D6&mt=8
YouTube: http://www.youtube.com/user/goodguide
Post Calendar
October 2020
M
T
W
T
F
S
S
« Mar
1
2
3
4
5
6
7
8
9
10
11
12
13
14
15
16
17
18
19
20
21
22
23
24
25
26
27
28
29
30
31