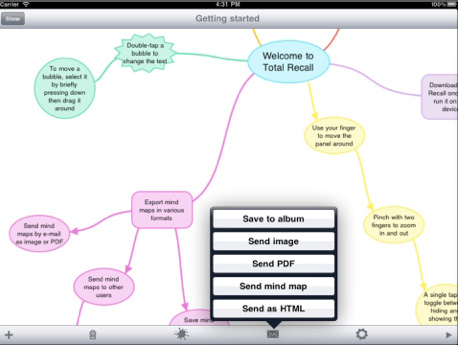 Developer: Zyense
Free
Available for iPad and iPhone

The ability to visually outline information can be a valuable tool in the learning process. Total Recall is an app that allows you to create mind maps digitally right on your iPad or iPhone, save them for later reference, share them with others, and email them as images or PDF documents. Of the various mind mapping apps I looked at, Total Recall offered the easiest to use interface and the most appealing layout conducive to the process of organizing idea. 
Start by creating a textbox to hold the central topic or theme of you mind map. Branch out from there by adding additional text boxes for main topics and subtopics, add callout and floating topics for supplemental information, and arrowed or plain relationship lines to visually link your topics. There is a preset color pallet from which to choose topic colors or choose from a color picker to enhance your content display.
Press the edit button to access options for your boxes and lines. Choose from oval, rectangular or star burst shapes for your topic boxes, choose none, single, or double arrows for your lines, and for text, choose from four different font sizes to enhance the appearance of your map. There is a play button in the bottom right hand corner that allows the app to organize your content automatically or turn it off to position topics anywhere on the page.
Share your mind map with others via email as an image, a PDF file, or as a native Total Recall file so others can open it up and edit it on their iPad. You can also save it as an image in your album for inclusion in other applications.
iTunes: https://itunes.apple.com/ie/app/total-recall-mind-map/id360443748?mt=8
Developer: http://www.glamtropez.com/totalrecall/
Post Calendar
October 2020
M
T
W
T
F
S
S
« Mar
1
2
3
4
5
6
7
8
9
10
11
12
13
14
15
16
17
18
19
20
21
22
23
24
25
26
27
28
29
30
31