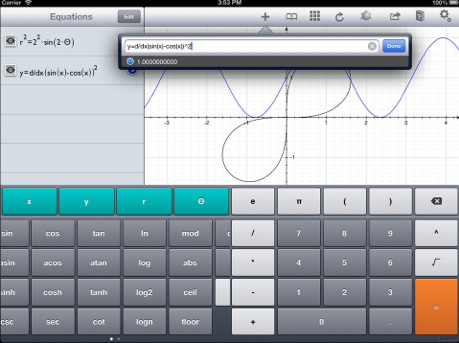 Note: Since this app was first reviewed, Quick Graph is now free with an in-app purchase of $1.99 for advanced features.
Developer: Colombiamug
$1.99
Available for iPad and iPhone


Quick Graph is a mathematical expression graphing tool for plotting both 2D and 3D equations. It allows plotting of multiple equations on the same graph, color codes them for easy identification, and permits   individual equations to be turned on and off for easier viewing.
Explicit and implicit equations and inequalities can be displayed in Cartesian, polar, spherical and cylindrical Coordinate systems. There are six available variables; x, y, z, r, theta, and phi.
Equations can also be solved for variables by including the variable values on the equation input field separated by a semi colon; y=2;x=5;3x-y gives an answer of 13. 
Interact with the graph by pinching the display to zoom in an out and use a single finger motion to pan the graph in 2D graphs and to rotate 3D graphs. Tap and hold to bring up crosshairs to trace a line in 2D mode and to see the coordinated of a specific location.
In the settings, you can choose between light and dark backgrounds for the 2D and 3D graphs, choose the thickness of the lines, ad set the rotation functions of 3D graphs.
iTunes: https://itunes.apple.com/us/app/quick-graph+-your-scientific/id541477533?mt=8
Developer: http://kzlabs.me/quick-graph/
Post Calendar
October 2020
M
T
W
T
F
S
S
« Mar
1
2
3
4
5
6
7
8
9
10
11
12
13
14
15
16
17
18
19
20
21
22
23
24
25
26
27
28
29
30
31