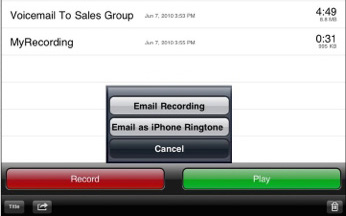 Developer: nFinity Inc
Free
Available for iPad and iPhone

QuickVoice Recorder is a simple to use voice recorder that works well on your iPhone or iPad. Use it in your class to have students record a synopsis of a lesson or a project proposal and email to you. This free version allows email with audio files of up to 5MB and the paid version of this app (QuickVoice2Text PRO Recorder, $2.99) allows emailed recordings of up to 20MB. Note: 5MB equals about 1 minute of audio.
There is not much to this app, press record to start recording, pause at any time during recording, and stop to save it. 
The paid version translates recordings into text for emailing.
iTunes: https://itunes.apple.com/us/app/quickvoice-recorder/id284675296?mt=8
Developer: http://www.nfinityinc.com/quickvoiceip.html
Post Calendar
October 2020
M
T
W
T
F
S
S
« Mar
1
2
3
4
5
6
7
8
9
10
11
12
13
14
15
16
17
18
19
20
21
22
23
24
25
26
27
28
29
30
31