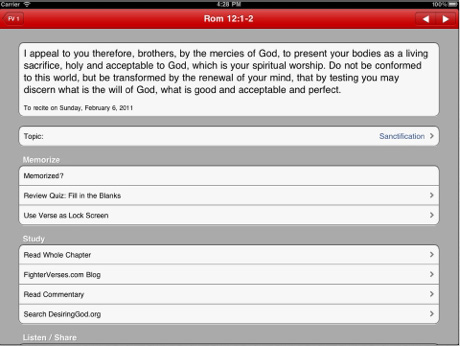 Developer: Children Desiring God
$2.99
Available for iPad and iPhone

Intended for individuals or congregations who want to memorize long passages of Biblical verses, Fighter Verses helps with the memorization of verses through audio recitations, fill-in-the-blanks quizzes, recite aloud, first letter reveal, and word search.  
The main purpose of Fighter Verses is to memorize portions of the Bible over a five year period but it includes a "My Verses" section which allows users to select their own verses to memorize. Add a new verse using Book, Chapter and Verse, I choose 1 Corinthians 13:1, and use the Memorize, Listen/Share, Study, and Navigate tools to aid in the memorization process.
The memorize tools contains five different quizzes; 
Quick Blanks

 

– Missing words in the verse that appear when taped
Recite Aloud

 

– Press record to recite the verse aloud and compare it with the written verse
Type First Letter

 

– Missing words that are revealed when you type the first letter of the word
Typing

 

– Missing words that must be typed in
Word Bank

 

– Missing words that can be selected from a drop-down bank of words


All quizzes, except for the recite aloud, contain multiple levels of complexity and the app keeps track of the quizzes and levels you've completed. You can have the iPad read the verse to you, share the verse via popular social media sites, display the entire chapter the verse is in, and read a commentary on the verse.
There are other verse memorization apps available but Fighter Verses offers the best set of quizzing tools of all the ones I tested.
iTunes: https://itunes.apple.com/us/app/fighter-verses-memorize-bible/id411711646?mt=8
Developer: http://fighterverses.com/

Post Calendar
August 2020
M
T
W
T
F
S
S
« Mar
1
2
3
4
5
6
7
8
9
10
11
12
13
14
15
16
17
18
19
20
21
22
23
24
25
26
27
28
29
30
31