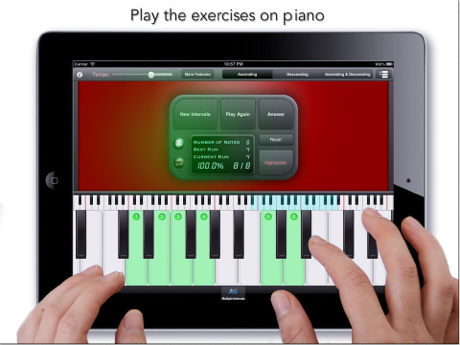 Developer: iMobilTec
Free
Available for iPad and iPhone

goodEar is the starter app for a suite of apps that help train musician's develop a better musical ear. The app plays randomly generated melodies from 2 to 6 tones long which must be identified by the user and played back on a piano keyboard. There are three levels, easy, medium, and hard, and the app keeps track of runs and gives a percentage of correct renditions. Intervals can be made diatonic or non-diatonic and you can choose the intervals to include in the melody.
Follow-up apps include goodEar Chords, for triads and inversions, 4-not-chords, and alternated/extended cords. goodEar Intervals, for all intervals between two octaves, played ascending, descending or simultaneously, play backing cords to hear intervals in harmonic context. goodEar scales, which includes all Ionian, harmonic minor, pentatonic, haxatonic, and octatonic scales. Each app costs $0.99 or purchase goodEar Pro for $3.99, which combines all features.
iTunes: https://itunes.apple.com/us/app/goodear-melodies-ear-training/id588125376?mt=8
Developer: http://www.calypso-score.com/goodear.html
Post Calendar
August 2020
M
T
W
T
F
S
S
« Mar
1
2
3
4
5
6
7
8
9
10
11
12
13
14
15
16
17
18
19
20
21
22
23
24
25
26
27
28
29
30
31