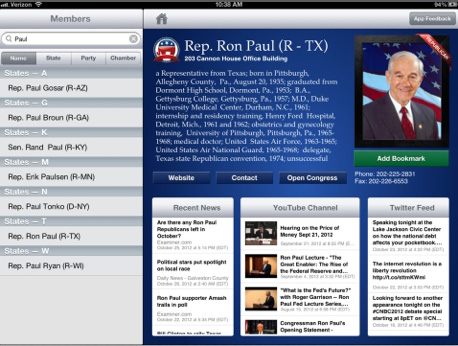 Developer: ObjectiveApps, LLC
Free
Available for iPad and iPhone
My Congress offers a wealth of information about the representatives of the 113th Congress. Get information on Senators and Representatives, including political affiliation, a short biography, a link to their website, contact information, recent news, their YouTube Channel videos, and their twitter feed.
You can search for congressional representatives based on your current location, by typing in their name, or by selecting a state, party or chamber. There is a bookmark section on the home screen where you're bookmarked representatives can be easily accessed as well as a recently viewed area to quickly return to previously viewed individuals.
Taping on a story in the News Feed, a video in the YouTube Channel, or a Tweet on the Twitter Feed takes you online in the built in browser to view the content. You can, alternatively, open the content in Safari for more details. Not all representatives have YouTube Channels and/or Twitter feeds, but the app lets you know that those services could not be located.
iTunes: https://itunes.apple.com/us/app/mycongress/id364897048?mt=8
Post Calendar
September 2020
M
T
W
T
F
S
S
« Mar
1
2
3
4
5
6
7
8
9
10
11
12
13
14
15
16
17
18
19
20
21
22
23
24
25
26
27
28
29
30