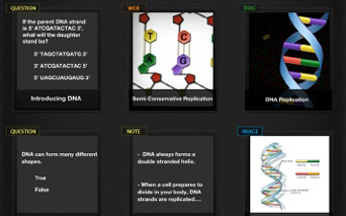 Developer: LearningMate Solutions, Inc.
Free App
Available for iPad & iPhone
GoClass is a teacher content delivery system much like NearPod but more robust in that content and questions cannot only be preloaded into a lesson plan, but additional content and questions could be added on-the-fly as needed. Content, notes, and questions can all be pushed to the student iPads in a sequence that best fits the instructor's needs during a lecture. 
In addition to pushing content to the student's iPads, the teacher's screen can also be mirrored to the overhead making it possible for the students to be viewing one thing on their iPads while something else is displayed on the overhead. So, a teacher who wanted to push an image out to their student's for them to view as reference could then put up on the overhead a set of questions about the image for the students to ponder. 
Lectures are created on the GoClass website by setting up what they call "elements", which can be documents, videos, images, or web pages. Each element can have attached to it a set of notes and questions which can be individually pushed out to the student iPads. GoClass supports a wide array of file formats including .mp4, .m4v, and .mov videos, .jpg, .png, and .gif images, and Word, text, PDF, and PowerPoint documents. Web pages, including YouTube videos, can also be set up as elements.
GoClass also has built into it a virtual whiteboard which can be used by the teacher to draw out examples that appear in real time on the student's devices. An art teacher who wanted to demonstrate cross-hatching or a science teacher who wanted to demonstrate how to build an atom can do so using this built in tool that includes a variable sized pen and an assortment of colors to choose from.
The program seemed a little clunky at first probably because it's still in BETA testing. It didn't take me long, however, to get used to it and start using all its features. I was able to create a lesson plan, upload and activate a student roster, upload media files and simulate a lecture in no time at all. A side benefit I discovered while experimenting with the app is that any information that was pushed out to the student iPads was viewable by the student even after the session had ended. I thought this was a great feature that could easily take the place of paper handouts.
Unfortunately there was not much in the form of a review of the app on YouTube but I did manage to find a video that demoed it as part of another video. To view the demo, go to the YouTube video listed below and advance the play position to the 3:20 mark.
App A Day Site: http://www.smchigh.org/ipadapps/78
iTunes: https://itunes.apple.com/us/app/goclass/id467088232?mt=8
Developer Website: http://goclass.com
YouTube: http://www.youtube.com/watch?v=2dnlkHXW4z8
Post Calendar
May 2020
M
T
W
T
F
S
S
« Mar
1
2
3
4
5
6
7
8
9
10
11
12
13
14
15
16
17
18
19
20
21
22
23
24
25
26
27
28
29
30
31