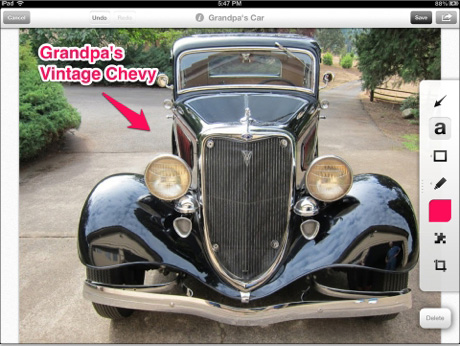 Company: Evernote
Free App 
Available for iPad & iPhone
Skitch allows you to take a photo and mark it up with arrows, text, shapes, highlights, and distortions, and also allows you to crop images. It's a little app that has a lot of potential. To start, take a photo with your iPad, choose one from your photo library, select a map to draw on, capture an image from a web page, or start off with a blank screen and create your own drawing.
The tools are a little simplistic but they get the job done. You can choose from drawing an arrow, typing in text, highlighting, and drawing shapes. The color is changeable on all these tools; thought you are limited to eight color choices. In addition, you can pixilate part of an image and crop the image as well. Skitch documents can be saved to your Evernote account for later use or a free account can be created to store your images. In addition, you can email it and save it to your iPad's Camera Roll as an image.
iTunes: https://itunes.apple.com/app/skitch-for-ipad/id490505997
Developer Website: http://evernote.com/skitch/
YouTube: http://www.youtube.com/watch?v=NwWg8iF42f8
Post Calendar
August 2020
M
T
W
T
F
S
S
« Mar
1
2
3
4
5
6
7
8
9
10
11
12
13
14
15
16
17
18
19
20
21
22
23
24
25
26
27
28
29
30
31