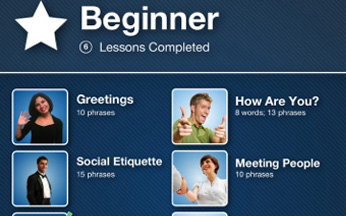 Company: Online Language Help
Some free lessons; $9.99 to unlock additional lessons/apps
Available for iPad and iPhone
The Très Bien app is part of a family of language apps from Pangaea Learning (http://www.pangaealearning.com/) that include Spanish, Italian, Portuguese, Hebrew, German, and French (search for "Online Language Help" in the app store). This app contains courses that include Beginner, Grammar, Intermediate, Advanced, Travel, Business, and Medical, as well as a full glossary of all the terms and phrases in the app.
Courses are divided into lessons that each containing a number or words and/or phrases particular to that lesson. Each lesson has an audio pronunciation of the word or phrase along with its spelling and English translation. To help study the lesson, students can drill themselves with flashcards by selecting the appropriate translation from a list. The audio pronunciation can be listened to from within each flashcard and after mastering a few terms, the program switches over to audio only and the student has to match up the spoken word or phrase with the correct translation.
Within each lesson the student can play hangman with the French words for that lesson. The app that I downloaded had a problem with displaying the actual hangman parts as I got guesses wrong, but the game was still playable.
There are a number of "free" lessons one can interact with on the free version of the app or you can purchase a "Pangaea Passport" for $9.99 with opens up all the lessons on this app as well as all the ones from the other language apps in the Online Language Help family. 
There is an online component to the app, which contains, in addition to the lessons available on the iPad, additional learning games and a blog type area with questions from other people using the system to learn the language. Though the lessons that are available for free on the iPad are also available on the website, you can use your Pangaea Passport to unlock the additional web content as well. 
iTunes: https://itunes.apple.com/ua/app/learn-french-tres-bien/id381394919?mt=8
Developer Website: http://www.tresbienfrench.com/
Post Calendar
August 2020
M
T
W
T
F
S
S
« Mar
1
2
3
4
5
6
7
8
9
10
11
12
13
14
15
16
17
18
19
20
21
22
23
24
25
26
27
28
29
30
31