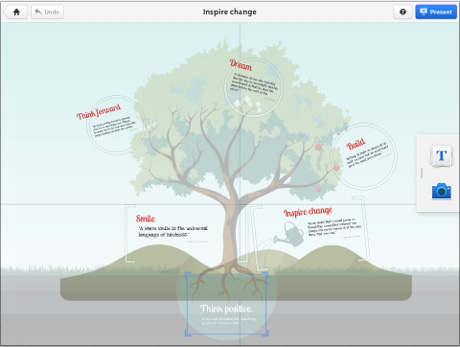 Company: Prezi Inc.
Free App
Available for iPad Only
Prezi is presentation software much like PowerPoint except that, instead of having slides, Prezi presents you with an infinitely large canvas on which to create your presentation. You can include images, shapes, text, videos, diagrams, PDFs, and audio/music. Position your elements on the canvas, shrink them down, rotate them, group items with frames and set up a path for the presentation to follow and you've got yourself a dynamic highly entertaining presentation.
Create simple Prezi presentations using the iPad app or create more sophisticated presentations on the Prezi companion website. Whether you create it on the iPad or online, the iPad app will allow you to present your presentation to the class.
Since seeing is worth a thousand words (yes, I just made up a new adage, patent pending), check out this Prezi presentation I created last year for my HTML class: 
http://prezi.com/dipugzgaf_fs/present/?auth_key=0z33i70&follow=uqvqqspw0pm5
Prezi presentations are fun and easy to make and fun to share with the class. There is a video on Prezi's website that explains the creation process in about a minute and you can be on your way to creating your own Prezi Presentation in no time.
iTunes: https://itunes.apple.com/ca/app/prezi-for-ipad/id407759942?mt=8
Developer Website: http://prezi.com/
YouTube: h
Post Calendar
August 2020
M
T
W
T
F
S
S
« Mar
1
2
3
4
5
6
7
8
9
10
11
12
13
14
15
16
17
18
19
20
21
22
23
24
25
26
27
28
29
30
31