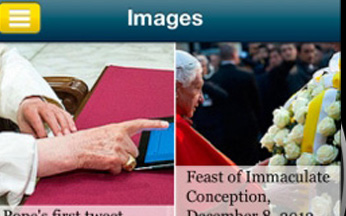 Developers: Pontificium Consilium de Communicationibus Socialibus
Free App
Available for iPhone but works on iPad (load the app on the iPad and click the '2x' button in the lower right hand corner to display full screen).
Thanks to Jenny Jack for sharing this timely app 
Keep up to date with the happenings in Rome centered around the Pope. This free app allows you to follow the Pope live with 'Live Events', get messages from the Pope, news, photos, and videos, monitor webcams, and link to various sites associated with the Pontiff, including a link to His Twitter account. 
Turn on Live Events to get notified and hour before an event starts and/or as an event starts. Choose the Events link to see a listing of all planned events for the day. 'From the Pope' displays messages from the Pope in their full text. News shows news items related to the Conclave and other Papal happenings. 
See key areas of the Vatican through images and live webcams of St. Peter's Square. Watch videos related to Vatican news and events. '+Vaticano' links you to key websites related to the Papacy. 
iTunes: https://itunes.apple.com/ie/app/the-pope-app/id593468235?mt=8
Developer Website: http://www.thepopeapp.com/
Post Calendar
January 2021
M
T
W
T
F
S
S
« Mar
1
2
3
4
5
6
7
8
9
10
11
12
13
14
15
16
17
18
19
20
21
22
23
24
25
26
27
28
29
30
31