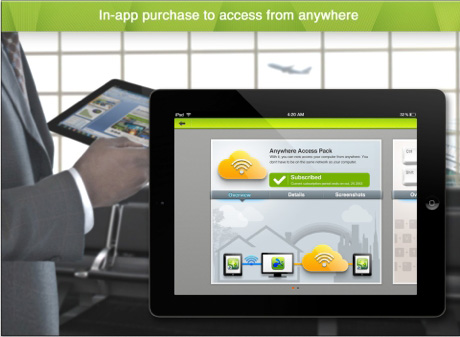 Note: Since this post was first published, Splashop 2 has changes the price for this app from free to $4.99.

  
Company: Splashtop Inc.
Free – in-app purchases/updates
Available for iPad only
Thanks to Simon Wesley for suggesting this app

With Splashtop 2 you can access your computer right from your iPad. Much the same way Reflector mirrors the iPad onto a computer, Splashtop 2 does the reverse, allowing you to access all the data and programs that are on your computer from your iPad. Quickly and easily manage files, open programs, even play videos or surf the web on your home or work computer using the iPad as a remote interface.
There are two components to Splashtop 2, the iPad app which needs to be installed on your iPad, and the PC or Mac download which needs to be installed on your computer. Once downloaded and installed, create an account with Splashtop 2 and sign in to both the PC/Mac interface and the iPad app with the same username and password. On your iPad, your PC or Mac will appear once you sign in. 
The interface is pretty fast between your computer and the iPad since all the processing is done on the mirrored computer. The program will change the resolution on the mirrored computer to fit the iPad but as soon as you disconnect, your computer's resolution is reset back to normal. 
The app works for free when the iPad and the computer you are mirroring are connected to the same network. If they are on different networks, like you want to access your home computer from work, you can purchase an access pack as an in-app purchase that will allow this remote connection. The cost is reasonable at $1.99 for one month or $16.99 for a year.
Check out the YouTube video, listed below, to get a sense of how this app can work for you.
iTunes: https://itunes.apple.com/app/id382509315?mt=8
Developer Website: http://www.splashtop.com/splashtop2
YouTube: http://www.youtube.com/watch?v=LH0jrTtOjU8&f
Post Calendar
February 2020
M
T
W
T
F
S
S
« Oct
1
2
3
4
5
6
7
8
9
10
11
12
13
14
15
16
17
18
19
20
21
22
23
24
25
26
27
28
29