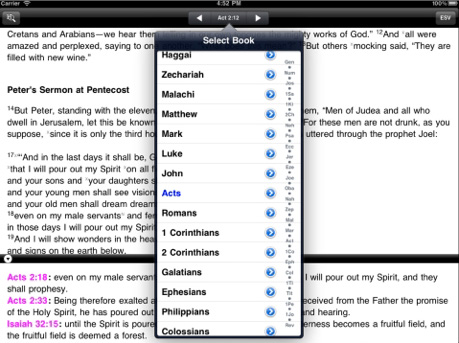 Developer: Nic Carter
free
Available for iPad and iPhone

PocketSword is a Bible study app which is fully customizable. It works by linking different text modules together using the biblical paratext of Book, chapter, and verse. The categories for modules include Biblical texts, commentaries, daily devotionals, and lexicon/dictionaries.
Biblical texts are available in over 60 languages and for English texts there are over 50 different translations to choose from. Commentaries are available in six languages including English, Ancient Greek, French, and German. For English commentaries, choose from over 20 texts including Net Bible Footnotes, Matthew Henry's Complete Commentary on the Whole Bible, Family Bible Notes, and more.
Dictionaries and lexicons are also available in several languages and you can choose from over 20 companion texts to use as reference in your Biblical studies classes. There are three daily devotions that can be downloaded, Day by Day Grace by Bob Hoekstra, Daily by Johnathan Bagster, and SME by C.H. Spurgeon.
Navigation through the various texts is easily accomplished by tapping on the Bible, Commentaries, Dictionary, or Daily Devotional buttons at the bottom of the screen. Texts within modules can be accesses by tapping on the button in the upper right hand corner. This way you can compare texts, say from different translations of the Bible by simply switching back and forth between them. While on a particular Book and chapter, tap on the commentary button to see the comments regarding that particular passage in the Bible.
There are four sources for modules accessible through the app, CrossWire and CrossWire av11n, from The Cross Wire Bible Society, NET from Bible.org, and Xiphos from Xiphos Open Source Bible Study. The app also had an advanced features, though I have not tried it, that allows users to upload their own commentaries to correlate alongside Book, chapter, and verse in the Bible. 
All downloads I have so far encountered are free as is the app itself. This app offers a great way to customize the learning experience for Bible study students and a great way to deliver and organize content for teachers.
iTunes: https://itunes.apple.com/us/app/pocketsword/id341046078?mt=8
Developer: http://www.crosswire.org/pocketsword/PocketSword/PocketSword/PocketSword.html
Post Calendar
August 2020
M
T
W
T
F
S
S
« Mar
1
2
3
4
5
6
7
8
9
10
11
12
13
14
15
16
17
18
19
20
21
22
23
24
25
26
27
28
29
30
31