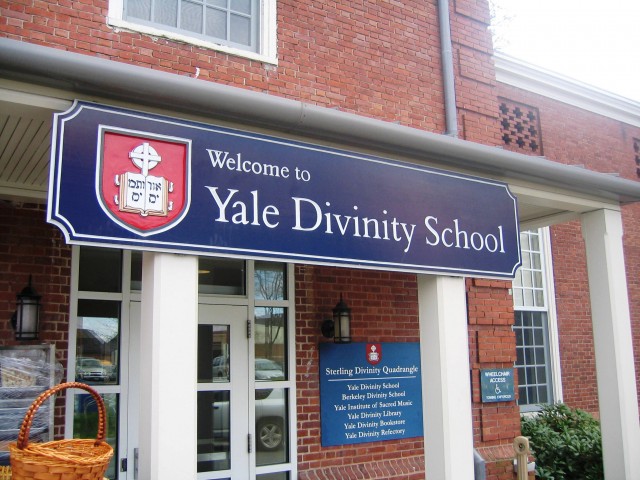 Yale Divinity School presents 14 lectures where theologians, scholars, educators and clerics share their views on religion and faith as a world force and as a guiding principle in everyday life.
Released Sep 28, 2011
Opening ceremony of the "Eight Decades of Women at YDS" celebration, Oct. 11, 2010. Speakers include Talitha Arnold '80 M.Div., Women's Reunion Chair; Harold Attridge, the Rev. Henry L. Slack Dean of Yale Divinity School and Lillian Claus Professor of New Testament; Margaret Farley '73 Ph.D., the Gilbert L. Stark Professor Emerita of Christian Ethics; Joan Forsberg'53 B.D., former Associate Dean of Students and Women's Advocate; Emilie Townes, Associate Dean of Academic Affairs and the Andrew W. Mellon Professor of African American Religion and Theology.
Released Jul 14, 2008
The Liturgy Symposium Series is presented by the Institute of Sacred Music. The series features liturgical scholars and practitioners selected by the chair of the Program on Liturgical Studies, Bryan Spinks. The talk focuses on the role of Christ's passion in the liturgical imagination at the moment when Christianity first met the peoples of the New World (and vice versa), specifically, the indigenous cultures of central Mexico.
Released Jul 01, 2008
Paul Freedman, Chester D. Tripp Professor of History, explores and dispels modern misconceptions regarding historical European tensions in the Middle East, providing illumination of major events from the Crusades to a more modern era.
Released Oct 25, 2007
The Rev. Barbara Brown Taylor, Harry R. Butman Professor in Religion and Philosophy at Peidmont College, preached the sermon at The University Church's 250th Anniversary Worship Service at Battell Chapel.
Released Oct 01, 2007
Dr. Peter Davies, publisher of "Alien Rights: A Critical Examination of Contemporary English in Anglican Liturgies", addresses the topic in this presentation and netcast.
Post Calendar
October 2020
M
T
W
T
F
S
S
« Mar
1
2
3
4
5
6
7
8
9
10
11
12
13
14
15
16
17
18
19
20
21
22
23
24
25
26
27
28
29
30
31