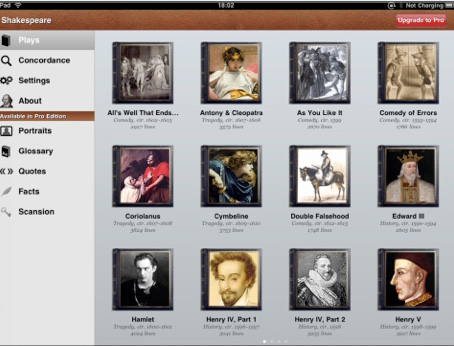 Developer: Readdle
Free/$9.99 for Pro Edition
Available for iPad and iPhone

This is a one stop app for serious Shakespeare students and enthusiasts. Inside are the complete works of Shakespeare; 41 plays, 154 sonnets, and 6 poems, and a comprehensive concordance. The Pro version offers additional reference material, including 18 portraits, a 40,000 word glossary, 80 quotes, and detailed facts about Shakespeare and his works. 
When you open a play to read, there is a Dramatis Personae with information about the characters in the play along with their number of lines, a Scene Breakdown describing in detail the scene location, who's in the scene with a quick synopses of the scene. Navigate the text by Act and Scene and control the appearance of the text by selecting text size and color, font, and background color.
For students of Shakespeare, the concordance is an invaluable tool. Type a word into the search bar and you will be presented with a list of locations where the word appears, the name of the work, act, and scene. Click on an item in the list to bring up that section of the work with the keyword highlighted.
It's not really clear from the iTunes description if the pro version offers line numbers in the play, but it is a feature that is missing in the free version. In the pro version there is also a feature to auto scroll the text for hands free reading/studying. Also, I was not able to simply tap on a word in the text to bring up a dictionary, something that might be available in the Pro version.
iTunes: https://itunes.apple.com/us/app/shakespeare/id285035416?mt=8
Developer: http://readdle.com/products/shakespeare/
Post Calendar
May 2021
M
T
W
T
F
S
S
« Mar
1
2
3
4
5
6
7
8
9
10
11
12
13
14
15
16
17
18
19
20
21
22
23
24
25
26
27
28
29
30
31